*Note! These are kit options only. Most items are not available to the aftermarket.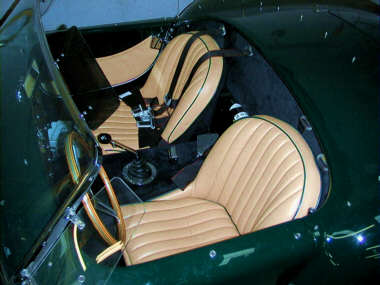 We can supply
just about anything that you need
to complete your kit. Everything that's listed in our required parts list is available from us. If there is something that's not on the list, please ask.
We will also make every attempt to accommodate special requests. If you are not mechanically inclined, or are short of time, E.R.A. can do anything to help make your assembly job easier. Many people choose to have us create a "roller". We install the suspension and permanently bond the body on at the factory.
At the right are some custom tan seats with green piping we did for a potential "street car."
BASIC KIT PRICE: $21,900 (see here for standard parts list)
ASSEMBLY OPTIONS
Powder-coated chassis, hinges and many other small components by Central CT Coatings - $1600

Bond and rivet the body onto the chassis, rivet and bond the floors, interior panels, wheelhouse and trunk panels - $3800
Labor to assemble rolling chassis - $2300
---
Six-Pin-drive one-piece hubs (set of four), pins, center dust caps, standard front 11" vented rotors with bearings and seals, machined and trued.
With 7.5" x 15" and 9.5" x 15" wheels: $4900
Less wheels and wing nuts. - $3560 (standard brakes)
When you get the optional 12.2" brakes, subtract $150

Five-pin-drive aluminum wheels with adapters. These are visually identical to the 6 pin wheels but use adapters to bolt onto standard bolt-on hubs - $2500
Bolt-on wheels available - inquire
BRAKES

Brake reservoir, plastic. Feeds front and rear brakes, and clutch - $85
Brake/clutch reservoir cans (shown at right) with clamps and hard lines, installed - $250
Front GM brake calipers with hardware - $175/pair
Front rotors for above (Bolt-on wheels only) - $175/pair
(Rotors are included with Pin-drive option)
Competition front brakes, 4-piston fixed calipers with 12.2" vented rotors - $1400
Outboard rear brakes with 11.75" vented rotors - See the ERA rear suspension below.
FRONT SUSPENSION
Rack and pinion steering gear, 3.2 turns lock-to-lock, new, with modified inner tie-rods, bushings and mounting bolts - $750
Anti-sway bar, with all installation hardware - $300
Coil-over dampers with springs, custom valved by Spax, externally adjustable for height and damping. With installation hardware - $850/pair

---
JAGUAR-BASED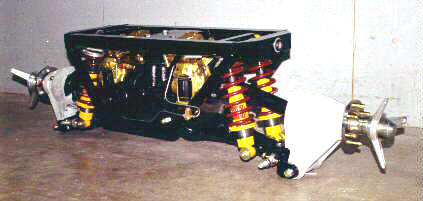 Rear subframe (the price includes the labor to shorten your control arms and half-shafts, w/handbrake adapter - $600
Rear suspension complete, Jaguar based - Complete rebuilt assembly, includes new Spax dampers (see below), Eibach springs, bearings, rebuilt or new Powerlok© limited-slip differential with your selection of gear ratio (2.88-3.77), installed - $5550
Coil-over dampers with springs, Spax, rear, four complete units, externally adjustable for height and damping, $1700
Anti-sway bars for Jag-based rear, with all installation hardware - $300.
Used Jaguar cores ($950) and rebuilding parts are also available.

---
ERA DESIGN

Complete assembly, with outboard brakes and custom hub carriers. Complete, assembled and installed, ready for bolt-on or pin-drive wheels. Best for track, but also works well on the street using softer springs. Saves 50 lbs compared with Jag-based setup - $6900
ERA suspension "kit". Includes subframe, control arms, axles and hub carriers. You supply the differential, brake calipers, hubs, bearings and labor - Ask for price

Assembly includes new Spax dampers (adjustable height and damping), Eibach springs, bearings, rebuilt or new Powerlok© LSD with your selection of gear ratio.

Anti-sway bar for ERA rear suspension, adjustable - $395
ENGINES
We do not build engines, but Ford 390, 427 or 428 units are available directly from many sources. A list of builders that have proven reliable for customers is available here.
ENGINE PARTS

Air cleaner, large oval - $160
Custom 14" - $100
Oil breather, FE, rear of intake manifold, polished aluminum - $100
Oil pan, Canton (FE). Available (pickup included) in track design with one-way doors - $350, or street design - $300
TRANSMISSIONS/CLUTCH
CLUTCH ASSEMBLY - We stock high performance discs, pressure plates and bearing for most applications. We use dual friction material discs with diaphram style pressure plates for stock pedal pressure with greatly improved performance. Kits starting at $335 (See the Detailed Price List for details.
FORD TOP-LOADER
TRANSMISSION, ACCESSORIES

Small or Large spline close ratio gearbox - Inquire
Complete Hurst shifter linkage and handle, modified and installed - $750
Richmond Gear 5 speed transmission - requires shift linkage and handle - $1980
Shift linkage and handle for above - $850
Tremec TKO 5 speed transmission - integral shift linkage, only requires handle - $1550
New Tremec heavy duty TKO-600 also available - $2795
Shift handle for Tremec. Duplicates original look, but the lockout is non-functional - $200
Knob (5 speed) - $60

Bellhousing, bottom flange trimmed - $800 most applications
Clutch assembly - We stock high-performance dual-friction clutches for improved performance with light effort. Kits starting at $335
Drive-shaft, manufactured from all new parts, balanced - $380 for most applications.
Aircraft shoulder bolts w/ nuts for driveshaft - set of four - $20




Note the standard driveshaft strap.

EXHAUST (for Ford FE only)

Side pipe competiton-style exhaust system (as used on the original competition cars) - Primary and side pipes in bare steel, complete (needs tabs welded on) - $900
Primary pipes ("headers") only (bare steel) - $600
Side pipes only (bare steel) - $900
Stainless steel side-pipes only, polished, $2850/pair. Use with primary pipes above.
Under-car exhaust also available
Heat shields for primary pipes, set for both sides - $150
VENTS FOR EXAUST COOLING

Wire screen vents to allow hot air from the exhaust primary pipes to exit from the engine compartment. Includes aluminum ring and screen, and the holes made in the aluminum wheel house. All installed. - $300 for both sides.
COOLING
Extra heavy-duty fan, cools even radical engines - add $250
Dual front fans, like the original design (supplements the rear fan, doesn't replace it) - $395
Expansion tank, cooling system, in black epoxy - $550
Oil cooler
4" x 14" core and all braided hoses with fittings - $550
As above, with 6" high cooler assembly and shroud, shown at right - $700
Add for oil thermostat in sandwich adapter for above - $60
For remote filter system with either cooler, add $350
Add for in-line oil thermostat with remote filter - add $220
Carburetor cold air box "Turkey Pan" as shown at right - $375
Upper radiator connecting tube, silver ceramic-coated steel, with hoses and clamps (must be matched to special radiator) - $125
All radiator hoses available - ask
BODY AND INTERIOR

AC pedals, replace ERA face - Pair - $60
Ash tray, mounted in tunnel, as original - $90
Emblems, front, back - $36 each, side - $36 each
Steering wheel center cap - Cobra logo: $70, "AC": $70
Dashboard knobs for wiper and dash-light dimmer switch, special fluted and appropriately marked (replace plain ones) - $Ask.

Sun visors (above), installed - Pair - $135
Wind wings (at right), installed - Pair - $135

DASHBOARD CHOICES


SC Dash without glovebox - Standard
Street dash with glovebox - $200
SC Dash with glovebox - $200

Emergency brake handle, reproduction of original - $250
E.B. cable for Jag-based suspension - $50
E.B. cable system for ERA suspension. Includes 3 cables and balance linkage - $200
Locking hood handles, "T" style (shown at right) - add $100




Glovebox knob, original style "T" - Ask for price.
(Standard is a round knob.)
Headlights, Lucas Tripode (at right) each - $135
Replace standard DOT approved halogen
Headlight stone guards, steel mesh, pair - $40
Heater/defroster - installed. $390
Hood scoop - Integral with hood - Add $150
Leather interior and trim - $600
Rear license plate bracket stainless steel - $35
Front also available.
Nudge bars for front and/or rear - $185 each.
Roll bar kit - you install - $175
Installation, add $150
Chromed, add $225
Round tail-lights (instead of standard rectangular ones), pair, installed, $200
Bulb reflector/shield for above (pair) -see right-> - $30



Steering column, visual duplicate of original, with switch and steering wheel hub - $450
15" Steering wheel, reproduction of original- $200
16" Steering wheel as original - Ask
Hub for Triumph column - $125




Switch mounted on left side

Switch mounted on right

| | |
| --- | --- |
| Column with quick-release hub. An almost completely hidden system! It uses a modified hub (looks like the original car's) that has small finger cutouts for the release mechanism. The turn signal switch looks and acts exactly as before. It even retains the automatic canceller!. - $850 | |
| | |
MORE STUFF
Aluminum wheelhouse panels, front and rear - Now standard!
Battery, trunk mounted - $Ask
Wiper motor, linkage and wheelboxes - $350
Wiper arms and blades, complete set - $80
Windshield washer system, OEM type mechanical - $100
ACCESSORIES

Car cover, outdoor (waterproof, but not breatheable)- $208
Indoor, water resistant but not suitable for outdoor, breatheable with soft flannel liner - $268
Cable and lock kit - $15
Safety wire pliers and wire kit - $60
Storage bag for above- $10

Floor mats, with ERA logo, bound edges. Contoured to the ERA (chassis 731-on) footwells - $100/set

Cocoa mats are available for earlier cars directly from Cocoamats.com in many different configurations.




Mats for FIA shown. 427 similar.

Rear fender spats (vinyl) - Helps prevent rock chips. Held in place with velcro and the top snap - $250/pair

Foam padded fender protector with E.R.A. logo. What could be better? - $34 each

Race-style (Talbot) exterior mirror and bracket (for driver's and/or passenger's side +$60 each over standard mirror (shown at right)
Seat track set (each seat) - $100
Side curtains - ask
Tool kit - Inquire for tools available and pricing.
Soft top and bows (requires fitting) - ask
©2013, Era Replica Automobiles

Last updated 08/12