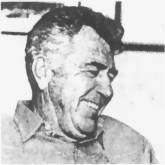 CE: Do you feel you accomplished everything you set out to do as a race driver?
Shelby: No, I didn't do everything I wanted to do as a race driver, but I did more than most people. When I had been driving a couple of years, I met John Wyer, who was just taking over the Aston Martin racing team for David Brown. When I first got to Europe, I had the contact with John, and through him I stayed on as an Aston Martin team driver through 1959. I had the opportunity to go with Ferrari and some other people with much faster Formula I cars, and probably faster sport cars, but I got the best training I ever had because of John's thoroughness and attention to detail. I learned a lot, and fact is, we won a lot of races back then, just because the cars were put together right, and because John was there.
CE: You worked with John Wyer again after you left Aston.
Shelby: When I started to build a car, we worked very close together, in the GT4O program Then he carried on after Ford was legislated out of racing in 1967 - after we had won Le Mans for the second time.
CE: What do you mean Ford was legislated out of racing?
Shelby: Well, they outlawed the 7 liter engine, and Ford took it as a personal affront and pulled out of racing.
CE: How did you get involved in the Ford Mustang program?

Shelby: I was already building the Cobras and Lee Iacocca came to me and asked if I could make the new Mustang into a sport car. I a went to the Sports Car Club of America and asked them what I had to do, and they gave me a list of things, all of which were possible, and I built the first Cobra Mustang. The SCCA put it in Class B, racing against the Corvettes, and that was basically how the idea got off the ground. It really wasn't anything I came up with, the whole Mustang idea was lacocca's.

CE: But it worked out well

Shelby: It worked, but Ford didn't build the cars. I had to take the Mustangs and make them into sport cars. It wasn't the ideal car to start with. We took the chassis, which was just a platform, because it didn't have the rigidity we needed, and made it work. Chuck Cantwell, Gary Peterson, and Ken Miles took the thing and made a sport car out of it. And I'll tell you, it's still winning National Championships, 16 years later. They did an amazing job of taking something that wasn't supposed to handle, and making it handle.

The most important thing in that program, that made it work, was the great relationship we had in the early days with Ford, and engineers that really knew what they were doing with engine design. They took that 289 engine - the first one I ever got was a 221 cu. in. - and a year from that time, we had a 289 coming off the line with solid lifters, a camshaft that we never were able to improve on, and an engine that really delivered the goods. Ford advertised it at 271 horsepower, and that's what you got! That was the most reliable engine, to put out power like that, that has ever come off a Detroit assembly line. You could push it to 7000 rpm in the Cobra, and it lived at that.