Shelby's History of the Cobra
Nov. 1986
Peter V. Mills
The Wonder Years

page 4
Shelby remembers the crew with a mixture of pride and sadness. "We had some really great people: Phil Remington, Davey MacDonald, Dan Gurney, Ken Miles, Phil Hill, Bruce McLaren, John Wyer, Pete Brock. Many people contributed to our success. Guys like Lew Spencer, Peyton Cramer, Al Dowd, Bob Bondurant." Shelb sold his high-performance driving school to Bondurant during this era.

1965 marked the end of Shelby's Cobra-racing days. He had become involved in converting Ford Mustangs into Shelby GT350s and racing them. Ford hired him to manage its successful GT40 racing programs in 1966 and 1967.

Front to back the drivers are Ken Miles, Dan Gurney and Bob Holbert. The event was the Bridgehampton 500 in September 1963. Gurney won the race, which was also the firs F.I.A. GT win.
In all, approximately 1000 AC Cobras were produced between 1962 and 1967. There have probably been more Cobra replicas built than originals. How does Shelby feel about that? "I don't mind people making copies of that old car if that's what they want to do. It's outmoded by today's standards, really. What I don't appreciate are those who are trying to bring back the name on a car that isn't a Cobra. It only looks like one."
"If I build another two-seat sports car, it will be a car of the Nineties." Says Shelby, who is now taking Dodge models and upgrading their performance, handling and appearance at an assembly plant in Whittier, California - only a few miles from where the first Cobra was born.

"We're turning out some pretty fast cars right now - at an affordable price," he says. "But I'd still like to put together another two-seater. A car that wouldn't cost an arm and a leg. Powered with a turbocharged 16-valve four-cylinder engine in a composite chassis…"

At Road America in 1963 Shelby (in hat) and Lew Spencer wrestle with the over-center jack while the shirtless Ken Miles looks on.
Carroll Shelby recently celebrated his 65th birthday, but he hasn't slowed down a bit. He's still dreaming and planning.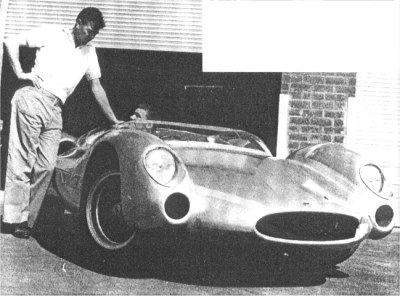 Dave McDonald at the wheel of the first King Cobra