It was now time to see what kind of market interest there was, and to nail down a production deal with Ford and AC. CSX2000 needed something sharp to wear for its coming out party, so Shelby sent the car to another L.A. racing and customizing legend, Dean Jeffries, for its first paint job.

"I think I paid him $200. Actually, I don't think I paid him at all, chuckles Shelby. "Maybe traded him something for the work. Jeffries painted the car a bright metallic yellow/gold, the idea being a dazzling appearance under the lights at the upcoming New York Auto Show. It should come as no surprise that CSX2000 was the hit of that show, held in April 1962. According to Peter Brock, early-on Shelby American employee and designer of the Ferrari-conquering Cobra Daytona Coupe, "Carroll could have taken 500 orders at that time, but he took only enough to get the thing off the ground. The people from Ford were there, and everybody was enthusiastic, so they said, 'Okay. Let's do it.'"

The agreement was that AC would build the body-chassis, and Ford would supply the engine/transmission. The car would be marketed through Ford dealers as the Shelby Cobra, wearing "Powered by Ford" emblems.

CSX2000 also served to further tantalize the press as to the potential of the Cobra. After New York, the media-savvy Shelby had the car repainted several times: "It was yellow, it was blue, I think it was red. Dean Jeffiies stripped it again and again; we had to make it appear that we had more cars than just this one!"

Development prototypes live a life not unlike that of an actor or rock star on a meteoric rise to stardom. While on their way up, and for an often short stint at the top, they're treated like the most important thing in the world: loved by all they come in contact with, the subject of constant attention.

Once their usefulness has run its course-i.e., when they've been replaced by something new-they often get cast aside. CSX2001 and CSX2002 came to America in May 1962, just three months after CSX2000 started the Cobra phenomenon. They were much more "production correct --whatever that was-though CSX2000 was the car used to homologate the Cobra with the FlA for racing qualification as a production car.
Once the deal was done to actually produce the Cobra, and these next two development chassis arrived, CSX2000 had done its job. According to Shelby, "After about September 1962, it just sat back in the comer. I don't think I started it for another ten years."

CSX2000 languished, but always in Shelby's care. It's never been owned by anybody else. Over the years, it's been on display at museums and events, but mostly, it stayed parked at one of Shelby's many facilities. At the time of our visit, it hadn't been driven in who knows how long, and Shelby agreed to have his able crew get it running so he could drive it for our photo shoot. Carroll seemed little concerned about CSX2000s worth as he pounded it around the Las Vegas Motor Speedway with us.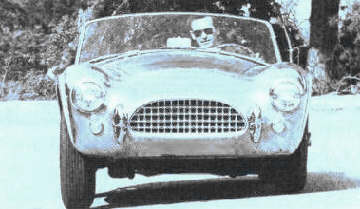 'Felt just like it did nearly forty years ago," bristled Shelby, eyes sparkling. "Same tires, same wheels, same old 260 engine. Doesn't handle all that bad, you know? And runs pretty good, for what it is. It felt just like when John Christy and I used to take it out and look for Corvettes when we first built it."
What's it worth? During our highway drive, Van and I figured $2-3 million might cover it. Good a guess as any, right? Wrong; we were politely informed by an insider that a completely serious, all-cash offer of $5 million was levied, but quickly turned down.
"I've been offered a lot of money a lot of times, but it'll never be sold if I have anything to say about it. I want that car to remain in my family forever. Every time I look at that old car, I think, 'Shelby, you lucky son-of-a-bitch."'