When it's all said and done, just how significant is CSX2000 in the great cosmic entity that will be someday be summarized as "Automotive History of the 20th Century"? After all, physically the car is little more than a Joe Average AC body and chassis that 37 years ago found itself force fed a cast-iron Ford V-8. Though there's little question Carroll Shelby wouldn't have spent his life after retirement as a race driver puttering in a rose garden, the Cobra phenomenon is unquestionably the genesis of his legend.

Were it not for this car, there would be no Shelby Cobras: 260, 289, 427, Daytona Coupes, or otherwise. Were it not for this car, there would have been no Shelby Mustangs. Likewise, were it not for this car, what would be the chances of the Shelby-Chrysler connection ever happening.?

If not, count out the likelihood of there ever being a Dodge Viper. And we wouldn't be surprised one chili-belchin' bit if Shelby has yet another car up his sleeve after the Series 1 that will-someday, somehow-relate once again to this very first Cobra.

So just how significant is this Anglo/American hot rod? As significant to postwar sports car history as any single machine could possibly be.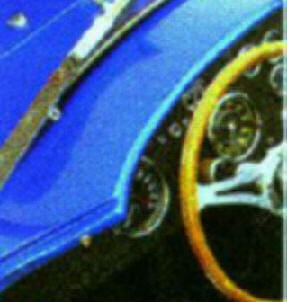 Half the gauges don't work, though the right turn signal does. All the time. No matter which levers I fiddle with. CSX2000's thin, wood-rimmed, alloy-spoked steering wheel feels like its made of Red Vines. There are a few, shaggy tears in the original leather seats. A crack in the blue paint on the top edge of the dainty, alloy passenger door reveals a glimpse of the original yellow finish. The engine compartment is a bit shabby, the welds on the handmade headers not exactly NASA quality. Who knows how old these rock-hard, Goodyear Motorway Special tires are: 6.70-15s on the rear, a 6.50-15 on the right front, and a 6.40-15 on the left front - close enough. Some would label CSX2000 as "weathered" or even "thrashed", others would say it has "character." We'll just say it's fabulously unmolested and deserves to stay that way.
Turn the key, press the starter button, and the solid-lifter V-8 snaps awake, settling into a slightly cammy, clackety idle. Whisps of blue smoke trail from the 1.5 inch diameter dual tailpipes, indicating piston rings that were indeed rode hard, put away wet, and haven't seen much action in the last 20 years. But the 260 revs willingly and, once running, transforms the first Cobra from a vaunted, horrifyingly valuable museum piece into-as Shelby calls 'em-a sport car. You know, a thing to be driven. It sounds good. It even smells good-o/d car smells. Depress that firm clutch pedal, select first with the stubby gearshift that falls perfectly to hand, and we're away.

It was now time to see what kind of market interest there was, and to nail down a production deal with Ford and AC. CSX2000 needed something sharp to wear for its coming out party, so Shelby sent the car to another L.A. racing and customizing legend, Dean Jeffries, for its first paint job.

"I think I paid him $200. Actually, I don't think I paid him at all, chuckles Shelby. "Maybe traded him something for the work. Jeffries painted the car a bright metallic yellow/gold, the idea being a dazzling appearance under the lights at the upcoming New York Auto Show. It should come as no surprise that CSX2000 was the hit of that show, held in April 1962. According to Peter Brock, early-on Shelby American employee and designer of the Ferrari-conquering Cobra Daytona Coupe, "Carroll could have taken 500 orders at that time, but he took only enough to get the thing off the ground. The people from Ford were there, and everybody was enthusiastic, so they said, 'Okay. Let's do it.'"
The agreement was that AC would build the body-chassis, and Ford would supply the engine/transmission. The car would be marketed through Ford dealers as the Shelby Cobra, wearing "Powered by Ford" emblems.
CSX2000 also served to further tantalize the press as to the potential of the Cobra. After New York, the media-savvy Shelby had the car repainted several times: "It was yellow, it was blue, I think it was red. Dean Jeffiies stripped it again and again; we had to make it appear that we had more cars than just this one!"
Development prototypes live a life not unlike that of an actor or rock star on a meteoric rise to stardom. While on their way up, and for an often short stint at the top, they're treated like the most important thing in the world: loved by all they come in contact with, the subject of constant attention.
Matt Stone/Motor Trend