All our wiring harnesses are done in-house. We take special care to solder and shrink wrap every joint. Of course, all wires are color coded, and every end is tagged so that installation is unambiguous.

In the 427 and 289 there are 3 major sections:
Front body to firewall
Firewall to dash
Firewall to rear body
Each is joined to the other with gang plugs, making mistakes hard to make. The dashboard can be wired on a bench and simply plugged into the rest of the harness.
Of course, there are quite a few connections, but with a little patience, even the electrically shy can complete the wiring in about a day. Our wiring instructions illustrate every connection.
We also include the fuse blocks and relays.
At the right, our mount for the signal relay and flasher unit, which also includes separate fuses for the rear lights to protect the relay. Wiring loom.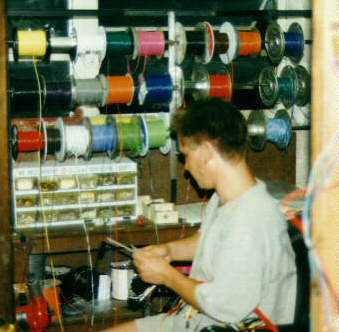 If you have any problems, we are just a phone call away, and you'll probably get me - the same person who actually designed the it.